Post by Starlight on Sept 1, 2015 7:08:51 GMT -7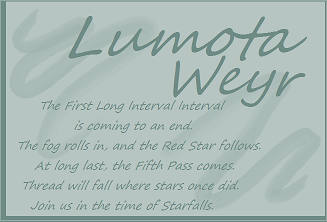 Dragons
::
History
::
Advertising and Affiliation
Welcome to Lumota Weyr, the Seventh Weyr opened after the overcrowding plaguing Weyrs at the end of the Third Pass over seven hundred turns in the past. Pern's seven Weyrs rose to the fight when the Red Star once again came calling, and survived another dangerous half-century. Lumota, along with the other Weyrs, were once again ready to organize for the Fifth Pass, but the Red Star danced curiously out of range of the eyestone. In place of Thread, for fifty turns the stars seemed to fall. With the meteor showers, came more unexpected surprises when in the latter half of the "Pass," the Western-most Weyrs of snowy High Reaches, foggy Lumota, and sunny Fort, witnessed the Hatching of strange new dragon colors. A deep rift has torn between the Western Weyrs and the Eastern Weyrs, but with the Red Star once again making itself known on the horizon, the Weyrs are beginning to prepare. The Holds and Halls find themselves distracted with an insurgance of crime, both in the form of land-based renegades, and more troubling, pirates at sea. With the fishercraft and trader ships under constant fire, they find themselves unwilling to look "up," when there are already so many crises here on the ground. Even the dragonriders have taken to focusing on piracy, which has proven related to a series of Pernwide kidnappings of Candidates, Weyrlings, and even full fledged Riders. With Thread possibly in the future, it is imperative that the Weyr gets to the bottom of the kidnappings in order to guarantee their continued existence when the deadly spores at long last fall again.


---
Lumota is a DRoP RP geared towards multiple levels of players. We are a PG-13 Weyr
Gold Litorask is due for a Mating Run within the next turn or so (within the next 3 months from 8/7/2015, depending on how quickly we gather up Candidates), and we can expect a wher Clutch on the Sands!
We currently have an open rank grab due to our recently opened status. Wingleaders, Weyrling Masters, Bronzeriders/Handlers, and so on and so forth are being accepted with minimal requirements.
An exciting plot is underway with multiple methods of participation! Apply with your character today!
Members (even brand new ones) are encouraged to join a Leadership Committee to help develop lore, plots, Hatchings, and other exciting content!
An advertising contest is underway from 8/7/2015 until 9/6/2015. Join in the contest and see what amazing prizes you could win!